Lyhyesti kerran kuussa ("shortly once a month") is a short film screening series organized by The Finnish Film Foundation. The events are held in The Foundation's cinema Kino K-13. The screenings are curated by Otto Suuronen, Advisor / International Promotion and Cultural Export of Short Films.
The films are subtitled in English. The screenings are free of charge!
Kino K-13, Kanavakatu 12, Katajanokka, Helsinki
How to get there
Lyhyesti film festival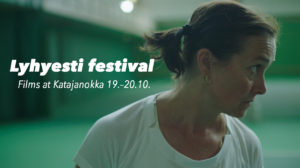 The Lyhyesti festival is a minifestival organized by the Finnish Film Foundation, which concentrates on showing short films. The festival celebrates the diversity of Finnish cinema, the 50-year-old Film Foundation and the 5-year-old monthly short film screenings.
The program includes festival winners, student films from future filmmakers, a pool of modern topical films and experimental films – all this without forgetting horror and historical film. The films are showed with English subtitles, except for the first screening, Näin tehtiin Suomalainen elokuva 1936-1989.
Saturday 19.10.2019
15:00 Näin tehtiin Suomalainen elokuva 1936-1989
17:00 Future voices – ELO 60
19:00 R&A Shorts -awarded films
21:00 Look ahead and stay calm – new and forgotten Finnish genre-film
Sunday 20.10.2019
15:00 Surprising encounters
17:00 Power, desire and desire of power – contemporary Finnish short film picks
19:00 The screening will be announced at the beginning of October
In collaboration with: Aalto university/The Department of Film, Television and Scenography (ELO), AV-arkki, KAVI (The National Audiovisual Institute), Love & Anarchy – Helsinki International Film Festival, Artturi Rostén
Upcoming screenings
November 17, 2019 Film within a Film
December 15, 2019 Festival Favorites
For more information:
Riitta Haapiainen, Kino K-13
tel. (09) 6220 3027
kinok13@ses.fi
Otto Suuronen, Suomen elokuvasäätiö
tel. (09) 6220 3019
otto.suuronen(at)ses.fi