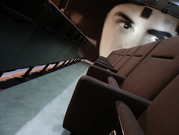 Kino K-13:n PRICES
Hourly rate weekdays 200 €, weekends and public holidays 300 €
Hourly rate for the film industry and cinema events 100 €,
weekends and public holidays 200 €
Screen tests (Mon-Fri between 8:00–17:00) 150 € / screening
The prices include the use of the auditorium equipment and one (1) technician.
We are happy to help with technical planning of events. We charge 40 € / hour for planning work and the use of an additional technician/attendant.
Additional equipment hired from an outside vendor will be charged as agreed.
Hourly rate for foyer (without equipment) 150 €, weekends and public holidays 250 €
Film rentals as agreed
Minimum charge for weekends and public holidays 2 ½ hours.
A VAT of 24 % will added to the costs.