Do You Still remember Hilma Limperi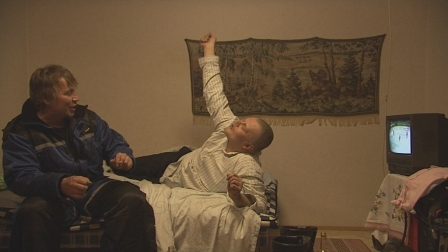 Domestic title:
Vieläkö muistatte Limperin Hilman
Script:
Jukka Kärkkäinen, Sami Jahnukainen
Director:
Jukka Kärkkäinen
Producer:
Sami Jahnukainen
Description:
Tero, 28, from Northern Finland is becoming a father, but has not yet told anybody. One Saturday night in December his friend Saku comes for a visit, bringing Tero two pairs of baby overalls. For some reason the whole village has heard the news. The boys decide to make a toast for fatherhood. Do You Still Remember Hilja Limperi is a story of male friendship and Finnish stiffness that opens up often with the help of alcohol. Most importantly it is a recording of a happy evening between two good friends living in the cold but warm-hearted North.