Fanatics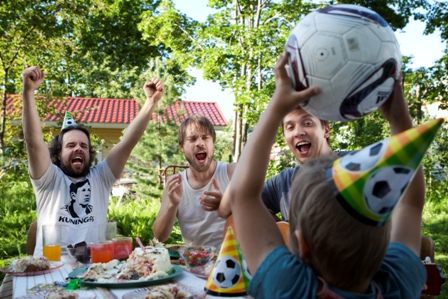 Domestic title:
Kulman pojat
Script:
Jaakko Kaján, Teppo Airaksinen
Director:
Teppo Airaksinen
Producer:
Jesse Fryckman, Oskari Huttu
Actors:
Eero Ritala, Joonas Saartamo, Jussi Vatanen, Lotta Kaihua, Janne Ravi, Antti Väre
Description:
Petri works in a sporting goods store in a small town in Eastern Finland. He and his friends spend their idle summer days and nights making mischief. Together the guys are the proudest – and seemingly only – members of the fan club for the local football team. The team's strongest opponent is another local team, the prim and proper AC United. To their horror AC United raises the stakes by hiring a professional for the upcoming season; ex national league football player Tuukka Tiensuu, the new home town hero. Friends and slacking off have always been Petri's number one priorities, but everything changes when he meets Emmi. It´s love at first sight and Petri's friends are naturally green with envy – for losing their friend to a girl. Everything would be perfect for Petri and his dream girl if she didn't support the wrong football team and have a dangerously close relationship with their arch nemesis, the city's own football champion, Tuukka Tiensuu.