Almost 18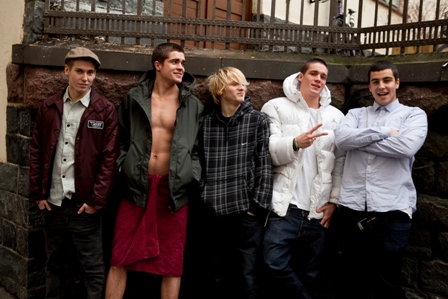 Script:
Henrik Mäki-Tanila, Maarit Lalli
Actors:
Karim Al-Rifai, Arttu Lähteenmäki, Henrik Mäki-Tanila, Anton Thompson Coon, Ben Thompson Coon, Elina Knihtilä, Ilari Johansson, Niina Nurminen, Mats Långbacka, Mari Perankoski, H-P Björkman, Tarja Heinula
Description:
"There were five of us guys. We stuck together through thick and thin – most of the time. I think we all had normal families. Normal problems. Normal feelings. There was nothing we couldn´t overcome. And then one year, for some reason, everything started going to shit." KARRI, 17. A car, Mom and the last driving lesson. Karri hasn´t even gotten out of his yard when he makes the first wrong turn: Finland loses to Sweden in the ice hockey world championships yet again, and his mom can smell he´s been drinking the night before. PETE, 17, and a girlfriend who took the abortion pill. The thought of killing a human being keeps haunting him. ANDRÉ, 17, and a forgotten little brother. André picks up his little brother from daycare once again because their mom is "working overtime." She comes home late at night – with a strange man. AKSELI, 17, and an ex-alcoholic father. Years of not talking about anything behind them and a two-square-meter hunting watchtower where you have to be totally silent ahead. JONI, 18, and demanding women. Joni dresses up in a furry wolf's costume and works as a mascot, giving hugs to kids and teenage girls. In his free time, he works as a stripper, taking clothes off for wealthy older women. Will he calm down when his mom finds out he's been smoking pot?