Once Upon a Time in the North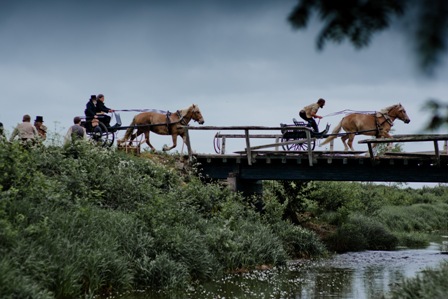 Actors:
Lauri Tilkanen, Mikko Leppilampi, Pamela Tola
Description:
It is the 19th century. On the plains of Ostrobothnia, Western Finland, a tradition prevails, according to which the first-born son inherits everything and the remaining offspring must fend for themselves. The law has been cast aside in many areas and groups of men, knife-wielding thugs, nicknamed "toughs", control the fields. The blade rules the land. The Välitalo household and farm are vast and affluent. There are two sons in the household. The younger son Matti is an upstanding man fit to inherit the farm, and secretly engaged to a young woman named Aino from a neighbouring farm. The older brother Esko a bum and the leader of toughs who is said to have killed several men. The father of the brothers makes a difficult decision and chooses to will his farm against tradition, not to his fi rst-born son, but to Matti, the younger son. Esko learns the will and all hell breaks loose.